01/25/2011
Fort Wayne is going Greener!


Europeans tend to believe they 'invented' recycling, or at least they are way better at doing it. This is not the case! Fort Wayne has had a recycling program ever since we moved here, and before that. The two plastic boxes, containing recyclable glass, plastics 1 and 2, paper, cardboard, and metal, were being picked up on trash day every other week.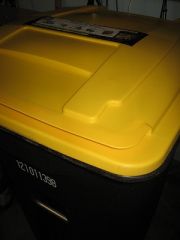 That was pretty good already, but now it's getting even better! When I came home from work today I found a shiny new big trash bin with a bright yellow lid parked by our curbside. All neighbors along our street got theirs too!