12/28/2010
Is Health a Luxury?
Today I went and had a new piece of gold put into one of my teeth, replacing the old inlay that had been showing signs of decay growing under it for almost a year now. I had to wait for such a long time because I needed to save money to pay for this dental service.
Comparing today's price to what it cost for that same tooth to be filled with gold twenty years ago - about $50 out of my pocket plus $150 from my insurance - explains why I see so many people with lousy teeth in this country.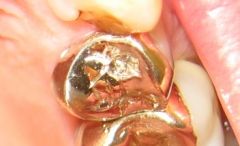 Here's what you can buy for $468, if you have insurance and a coupon (?!) from your dentist. Otherwise prepare to lay out $1,136 for 5 grams of gold.