09/16/2010
Flying mattress
My plans for a relaxing evening working out at the YMCA were abruptly cancelled by a mattress flying off a truck two cars ahead of me. The traffic light at the intersection of Washington Center and Coldwater had just turned green. Everybody was close behind each other and accelerating when a queen size mattress fell off the back of this truck. The driver ahead of me barely managed to stop right before the mattress. I slammed on my breaks as hard as I could, but still bumped into the back of that red Dodge. The SUV behind me didn't stop quite as quickly and rear-ended my van hard.
Nobody was seriously injured. Just my back now hurts a lot due to the blow from behind. The car in front of me got a small ding in the back fender and some paint scraped off where my front hit it. The plastic part of my front fender is cracked. The back door of my van is bent so much that it doesn't open anymore, and the back fender will have to be replaced too. The car behind me was leaking coolant and had the entire front badly smashed. He needed towing.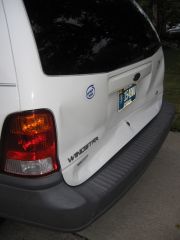 The person who lost their mattress never even bothered to stop.