09/02/2010
just when you least expect it....
..... somebody has the fantastic idea of putting a sidewalk in along Lima Road!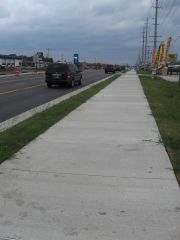 Construction to widen Highway 3 up to three lanes each direction has been ongoing for almost a year now. It doesn't look like they will get done any time soon. While driving that way is still a big mess, there is hope for an amazing future along the road, though.
There is a sidewalk!