07/02/2010
Independent from BP?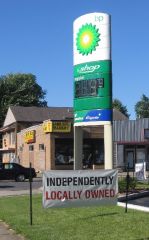 With millions of barrels of oil continuing to spill into the Gulf of Mexico people are getting angry at the greedy oil company that is to blame for this environmental catastrophe. What can us *little people* do to show BP we're angry? Many believe a boykott is the way to go.
But then, whom are you hurting when you stop buying gas at BP stations? This gas station on Anthony Blvd. claims to be 'independent' from BP. So could they just sell some other company's gas? Like Shell, or whoever? Even if that was possible, I don't think it would make a difference.