03/17/2010
Legal Cheat-Sheet
I made it about half way through my Bachelor's degree studies; you may officially call me a *Junior* now. Tomorrow night I'll take the final test for my current 'Group Dynamics' class.
Our teacher lets us use a 5"x7" piece of paper, front and back, with whatever we want to put on it, as our cheat-sheet.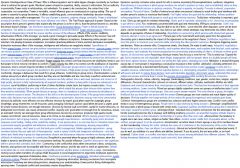 Here's how I made mine:
first I answered all questions on the teacher's study guide, using her class hand-outs. Then I copied all those answers onto a new word document, omitting all line spacing and paragraphing and indentations.
Arial narrow, 8 pt., is the smallest font I can read. Alternating colors adds even more readability. Then I printed that onto 2 pages of letter size paper, cut the text portions out exactly 5" by 7", and glued the pages together to make a 'front' and 'back'.