12/01/2009
Open the first door
One of the Christmas traditions in Germany that hasn't really made it to the USA (yet) is the advent calendar. You're supposed to start opening little doors on December 1st, opening one door every day, until the 24th - which is the main day of celebrations, and exchange of presents, in Germany.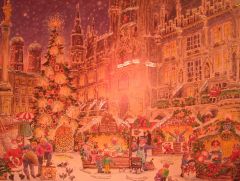 Most advent calendars I've seen have chocolate or candy behind the doors, which is not a good idea if you're trying to keep your weight under control. So this year I opted for one that reveals some funny little pictures behind the doors, free of calories.
I was so thrilled to find a scene from Munich's Christkind'l-Markt at Marienplatz that I didn't even blink at the price of this piece of cardboard, which would normally cost around 2.99 € in Germany:
$11 after shipping.