10/20/2009
can you overdo Halloween?
Fall is well under way, Halloween is quickly approaching. Some people like to decorate their houses with traditional arrangements, like straw and real pumpkins, while others turn to contemporary ornaments, like this one on my way to work.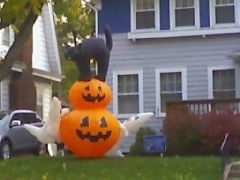 This small two-story house on North Anthony Boulevard has a twelve feet high blow-up object sitting in the front yard. It is a tasteful (?) work of art, featuring two pumpkins stacked on top of each other, a black cat balancing above, and two friendly ghosts attached sideways.
Going past that always puts a smile on my face. I wonder what kind of people live in the house.