10/17/2009
I'm riding again
It's been over 22 years since I last owned a motorcycle. I enjoyed riding very much, but my life just didn't have any room for a bike in it for a long time. Now things have changed to my favor, and I'll be riding again. Last week we drove to Hayden Honda in Kendallville and bought a blue-silver Honda Shadow Aero.
Today we picked her up.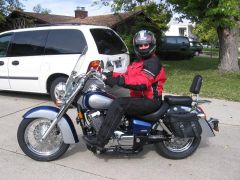 I was a little nervous at first, because it's been a long time since I last rode. After the first few miles it felt like I'd been riding every day. The weather was favorable too. No rain for the first time in a week, and around 45°F to go with it.