09/09/2009
the End of the World
I watched the 200th episode of my favorite TV show *Alarm für Cobra 11* on RTL's website today. The title was *Das Ende der Welt* (the end of the world).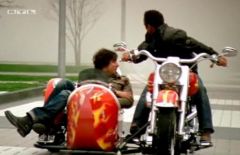 It was a double-length, action packed, suspenseful story about Semir and Ben saving the world (and themselves) from a deadly virus.
The episode aired last Thursday, and today was the last day that it was available to watch for free on the web.
Tomorrow the next episode will be showing on TV, and then I would have to pay .99 € to watch this one.
I know, I'm cheap.