09/01/2009
Vote for Angela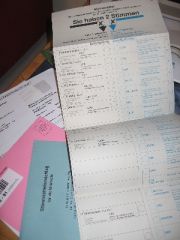 Elections for the next Bundestag will be held in Germany on Sunday, September 27th, 2009. I made sure that I was registered to participate and received my ballot today.
If I want Angela Merkel to be Bundeskanzlerin for another four years, I have to be smart enough to know where to place my two votes on this two feet long paper.
Her name is nowhere to be found on any of the roughly 20 parties' lists available to voters in Bavaria; neither is the name of her party, CDU.
I think I got it figured out though; this is the ninth time I'm doing it.