07/04/2009
Relaxing on the beach
Independence Day means a 3-day-weekend for me. Enough time for a trip to Portage, the Indiana Dunes State Park, and Central Beach at Lake Michigan.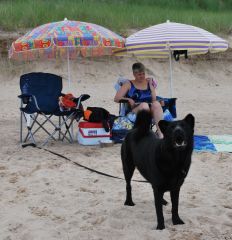 Armani enjoys riding in the car, digging holes in the sand, and making Tom run up and down the beach. This time he even went in the water to swim with me a little bit.
The weather was perfect, overcast, light wind blowing, drizzling rain later in the afternoon.