06/20/2009
Churubusco Turtle Days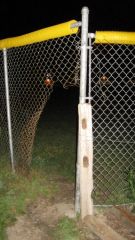 Summer is here, festivals all over the place. Like Churubusco's Turtle Days.
OK - the story behind this one is highly unlikely (giant monster snapper turtle sighted in a pond??), but who cares.
Here's how it works:
You park by the school, then you slip through this door in the fence.
Then you have an overpriced gyros sandwich - excellent taste, but no tools supplied with it, so it's messy.
You look at some of the rides, and wonder if they would pass a TÜV inspection.
You find it odd, that there is no beer tent anywhere near the place.
At last you see truly awesome fireworks, after you found out where they were having them, wandering around in the dark, guessing the location by watching other people congregate somewhere.