06/10/2009
Lederhasen ??
OK, I admit, I'm spoiled. After living in Munich, Germany, the home of the world's only real Oktoberfest, for roughly half a century, I am probably unable to appreciate the efforts made elsewhere.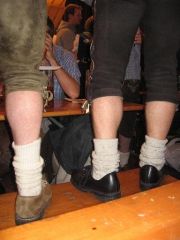 Like in Fort Wayne, with Germanfest under way.
I'm undecided whether to laugh or cry, when I see 0.33l portions of beer being served in plastic cups and people performing a city-wide Chicken Dance, which they believe to be a German tradition.
Today, watching Indiana's Newscenter on channel 21 in the morning, it was definitely time to laugh! Ryan Elijah announced today's Germanfest highlight, the tapping of the first keg at the festival tent, and Mary Collins commented on all the good stuff we'd be seeing.
Like people wearing *Lederhasen, or what do you call it?*.
I realize this isn't funny for those of you, who don't speak German. Sorry about that.