05/23/2009
who said toads are ugly?
We went camping with Sarah and Dan to the Pokagon State Park. Camping can be fun, if you have a big tent, good air mattresses, a grill and a stove, lots of bug spray, electricity, a screen tent to keep mosquitoes out while you're eating, and enough food and beer.
While we were sitting around the camp fire, I looked down and saw something move around between last year's leaves and brown dirt. I thought, it was a frog. But Tom said if it's dry and brown, it is a toad.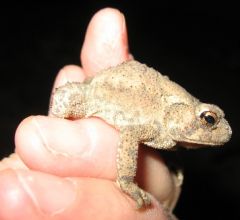 I always associated toad with something fat and ugly, but this little guy was really cute. If he hadn't moved, I would have never seen him.