05/21/2009
Electric Bug
Robert "Bobby" Munger, a student at Indiana Tech, parked his senior project outside Zollner on campus today. He took an old VW Beetle and turned it into a fully street-legal, 100% plug-in, electric car.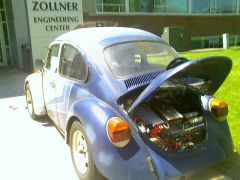 It cost him about $8,000 for the parts, countless hours of work, and some help from his buddies.
Right now he says the bug will run 20 miles on a charge; when it's fully broke in Bobby hopes to be getting 30 miles out of it. Charging time is around 3 to 6 hours, depending on how far the eight batteries are down.
I think this project shows the true spirit of America, and find it kind of sad that the school won't let him plug it in on campus.