04/04/2009
Kerry Christensen calls me (!?)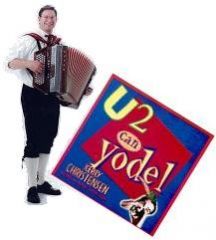 I taught myself yodeling with Kerry Christensen's CD *U2 can yodel*. When I had worked my way all through the lessons on the CD, I posted a video response with my performance of the last, hardest, yodel to Kerry's YouTube info-mercial.
I hadn't expected him to take note of my yodeling attempts, much less contact me about anything.
But that's exactly what he did! Yesterday he wrote me an email, saying that he also saw my interpretation of Melanie Oesch's Kuku-Jodler and would like to talk to me about that.
Today Kerry Christensen called me on the phone, to chat about yodeling in general and my approach to learning *harder* yodels, like the Kuku-Jodler. I told him that I used 'Audacity' to modify the sound files, that I sing along with for practice. I slow them down, so that I can get them figured out. I also transpose the pitch to match my voice range.
Kerry is a really nice guy! He said I'm doing a good job at yodeling. We'll stay in touch, I hope.