04/02/2009
on the top of my world
I enjoy all kinds of *physical* experiences; I like to see, touch, smell, taste and feel stuff - especially old stuff. When I mentioned that to my colleagues, two volunteered to show me some of the cool stuff on campus.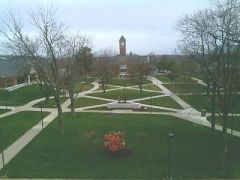 Yesterday I got a tour of Seitz's basement. Today a trip onto the roof of Zollner was *needed*, to find a good place to set up the new campus web-cam.
Indiana Tech moved to its present location around the time when I was born. Most of the buildings you see on campus today were built afterwards, but Seitz Center, from the 1800s, is still pretty much in the original shape. It has a really scary basement!