03/28/2009
Senior moment
I hadn't gone out to see a movie for quite some time. So today I went to watch *Knowing* - not knowing that it wasn't that great of a show. The idea is kind of interesting, but then the plot isn't very developed. Lot's of money wasted on cool special effects, not enough attention to logic and detail. The ending really sucks!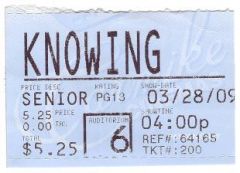 I got lucky on the ticket price though, which made up for the mediocre entertainment. I went for the show at 4:00 p.m., expecting to pay $6.75. When the girl at the box office asked for $5.25 I briefly hesitated - but didn't say anything.
A look at the ticket revealed the reason: I got the senior discount!
I must have looked really old today.