01/20/2009
Going out of business
I know, we are in a world-wide recession, everybody is affected. Individuals, families, groups, small businesses, large businesses, nobody is truly safe. You see the signs all over town *space available*, where you remember seing some store just last week.
Until now (knock on wood) I have been very lucky, as far as my personal finances are concerned. But I get a feeling, things are going downhill fast all around me. The number of really big companies going completely out of business, or closing many unprofitable stores, is scary!
In the recent case of World-Market announcing the imminent closure of their Fort Wayne location, it also hurts me personally.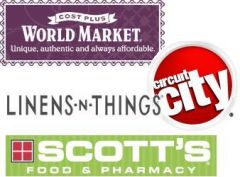 I will have to drive to Carmel now for some of my basic necessities, like Katjes Lakritz, Nürnberger Lebkuchen, Marzipan, Christstollen, Adventskalender or just some ordinary household items that aren't made in China.