12/31/2008
melting lead
New Year's Eve means party time! We were invited to our friends' house for a potluck. I made herring salad and German pretzels. People also brought fire-crackers and several bottles of champagne. Everybody watched *Dinner for One* shortly before midnight, and after that we lit our fireworks.
I had finally found the materials needed for a German New Year's tradition from an online source, directly imported from Germany. You can't buy it in stores here, because it is considered a hazardous chemical. So this year, for the first time since we moved, we were able to tell our fortune from melted lead.
You put a small chunk of lead (actually 87% lead and 13% tin) on a spoon and hold that over a candle until it melts. Then you dump the liquid metal into a bowl with cold water. Look at the random shape you get, try to associate what this might look like to you, and interpret the meaning for your future.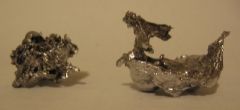 One of my two pieces of lead looks like a JetSki or a motorcycle to me, the other one is more like a bug on a fuzz-ball.