11/27/2008
what happens in Las Vegas....
Our wedding anniversary, my birthday and Thanksgiving are three good reasons for a three nights get-away to Las Vegas. We used our frequent flyer miles to pay for the flight and took advantage of a good deal offered by the Golden Nugget hotel.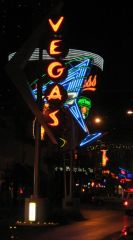 I liked the location, downtown on Fremont Street, better than the Hilton, where we stayed in 2004. Everything is close by in walking distance, and the hourly light show at night is fabulous.
The Golden Nugget has a swimming pool with an aquarium in the center of it. Half a dozen sharks and some other pretty big fish swim in the aquarium. That's quite an experience, swimming next to a shark with only about an inch of glass in between.