08/29/2008
Finally got an *M* on my Driver License
The motorcycle license I had achieved in Germany back in 1981 is still valid all over Europe. But it is worth nothing in Indiana. Ever since Tom bought his motorcycle, I wanted my *M* endorsement back.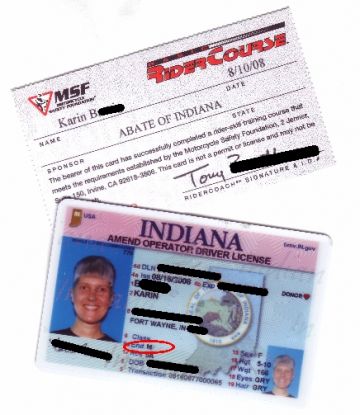 Being a resident alien I had to go thru a few extra hoops to reach that goal. First pass the written test to get the learner permit. US citizens receive the permit instantly. Aliens have their paperwork, including copies of passport and green card, processed in Indianapolis. Verification of your status takes about two weeks.
The next step is a weekend on a parking lot. That's called *motorcycle safety training*. Good thing, for somebody who has never rode a motorcycle. A little bit boring for everybody else.
After you pass the riding exam at the end of that weekend, you can go sit and wait around at your local BMV again. US citizens walk home with their new license on that day. Aliens like myself need to be checked out again, going thru Indianapolis again, just to make sure that you are still legal.
Today my pretty new driver license, with that extremely valuable *M* on it, arrived in the mail. Woo-Hoo!