07/26/2008
No more excuses!
OK, I know you need to walk or run at least 30 minutes every other day to stay in shape. Especially with the kind of jobs we have, sitting behind a desk all day long. But then, sometimes it is too hot, or too cold, or too wet, or too dark, or too late.......... and I find myself getting the exercise I need only once a week, at most.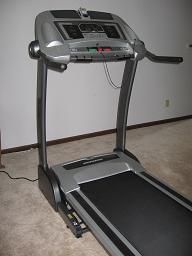 Now this is going to change! We went to Dick's sporting goods and bought a treadmill. After doing some research on the web and looking at different models in the store, we decided on a Horizon T900, which seemed to offer the best value for the price.
Getting the 360 lb. machine set up in our big, empty family room - which has been redefined to be the gymn - was a major challenge. Especially since one of the holes on the frame wasn't drilled in the right place. MADE IN CHINA - do I need to say more?