05/26/2008
Memorial Day mini-vacation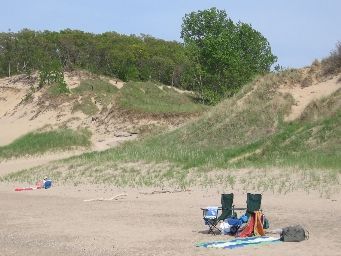 I had a four-day-weekend, thanks to Indiana Tech. Tom's work schedule allowed for two days off. So we loaded up the van with beach gear and took Armani to the pet-friendly Comfort Inn in Portage.
Perfect sunshine, few people, very cold Lake Michigan - Central Beach is one of my favorite places. There is a small bar & grill right across the street, in walking distance from the hotel, where they serve delicious buffalo wings and sandwiches.
Michigan City is not too far off our way back home, so we stopped at the Lighthouse Place outlet mall. Over 120 factory outlet stores, set up in a nice outdoor mall around an old lighthouse. Some pretty decent prices there too.