05/23/2008
Indiana Jones is back!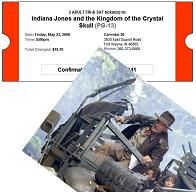 Who wants to see a 65 year old man doing the fourth sequel to an adventure movie series, the first part of which was made in 1981, over a quarter of a century ago?
Well, I do! And there were thousands of people doing the same thing. The latest Indiana Jones movie officially came to the movie theaters yesterday. I reserved tickets online and took Tom out to the Carmike today.
Kingdom of the Crystal Skull may not be the best of the four Indiana Jones movies, but I still had lots of fun watching it. What I wonder now is - will Harrison Ford wait another twenty years before he stars in Indiana Jones 5 ? Even if he does, I'll go watch that too - if I'm still alive then.