04/17/2008
Smart makes it to the Midwest
Now, when you tell people here you bought a Mercedes, this is probably not what they have in mind.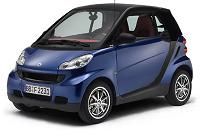 The *Smart for 2* has been available in Germany since 1998, and officially made it to the USA in November 2007.
With gas priced at about $3.50 a gallon, people are likely to smarten up more around here too.
When I went for my lunch-break walk today, I saw the first one cruising down the road in Fort Wayne.