03/26/2008
getting a *new* car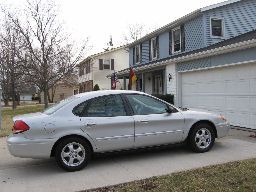 Our old 1990 Geo Tracker, with 207,000 miles on it's first engine, had been very convenient and fun to drive for two years. We bought it cheap, did only minimal maintenance on it, and got a lot of use out of it.
But the water pump was showing signs of imminent failure: random squeaks and anti-freeze on the ground underneath the car.
We had been thinking about replacing the old junker anyways - so now was the perfect time to actually go do that. Tom had seen a 2005 Ford Taurus at the same car dealership where we bought our van two years ago.
They took the Tracker for a trade and gave us a good deal on the Taurus. It cost us $7,000 - almost $2,000 below the Kelly Bluebook value. We are now the proud owners of a flexible fuel car, it runs on E85 (or regular unleaded). I like the idea of burning Indiana's corn instead of OPEC's fossil fuel.