03/23/2008
Easter walk in the woods
My daughter spent twelve days in Fort Wayne, visiting for the first time since her move back to Munich. The weather wasn't really cooperating, but we still followed our family tradition and went for a walk in the woods on Easter Sunday.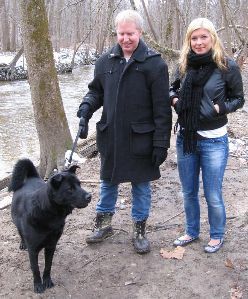 The Bicentennial Woods nature preserve, where we like to go for walks, must have been partially flooded. The place was very muddy, one of the bridges over the creek was broken and unusable.
Tom was the only one equipped with appropriate footwear for this kind of trail - so we had to make it a short walk.