02/09/2008
water in the basement
One of the big differences between Germany and the USA is the way houses are built. Almost all German houses have a basement, but none of the many basements I have seen (and lived in) in Germany needed a sump pump. The whole concept of that machine was beyond me when I first saw one, looking at houses to buy in Fort Wayne.
Just think about it! Instead of sealing your basement against ground water from the outside when building it, you let water leak into the basement on purpose, by means of drain tiles in your yard, and then pump it back out into the sewer. Now, what if that sump pump ever quits working?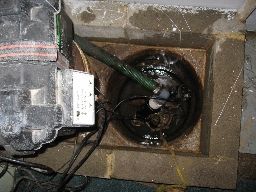 Oh, that's when the secondary pump will kick in, right? Aha, but what if the secondary pump quit working months ago, without you even noticing?
Well, that's what happened in our basement today. Tom was at work, I had slept in late and was going to go swimming at the YMCA. While I got my coat I heard a strange beep coming from the basement. At least the leak alarm worked.
I spent the rest of my day carrying buckets full of icecold, muddy water from the basement to the kitchen. Tom went to the hardware store as soon as he came home from work. It took us ten hours to get everything fixed.