02/06/2008
flood zone
We've had heavy rain, snowfall and winter storms these past few days. Our back yard looks more like a pond and on my way home today I had to take a detour.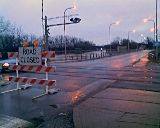 Anthony Boulevard was closed right before the bridge over the Maumee river because of dangerously high water levels. People living on Edgewater Road needed volunteers to help with sand-bagging.
A few more roads along the St.Joseph and St.Mary's rivers were also closed for the same reason. Good thing I know my way around town by now. I had no problem coming up with an alternative route home.