01/20/2008
Mozart at the Embassy Theater
Last night Tom had to work third shift, and my friend's husband had some business to tend to in Indianapolis. So she invited me to go to the Embassy Theater with her to enjoy an evening of Mozart's music, played by the Fort Wayne Philharmonic.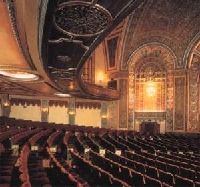 The historic (movie)theater had been badly worn, and was in imminent danger of being torn down a few years ago. I'm glad they didn't do that! Instead it was remodeled in the original style, leaving everything as close as possible to what it once looked like.
After the concert my friend and I went for a late night snack, drink and chat to Henry's - an old family owned and managed bar and restaurant on Main Street.