01/03/2008
it was about time...
....that I went to have my teeth checked and cleaned for the first time in over two years. I was prepared for the worst, but got away with *only* 150 minutes of scaling and root planing. Two old fillings will have to be replaced in May this year, which is going to be nothing compared to today's marathon session at the periodontist's office.
When my new dentist first examined the full x-rays she had taken, and probed into the deep pockets in my gums, she told me horror stories about bone loss and root decay as the inevitable consequences of my *severe* periodontal disease. Well, this was the first time she saw my teeth - so it's understandable that she was shocked.
The specialist, she had me see, found that it wasn't all that bad - at least my condition is stable (I knew that) and with good oral hygiene after today's procedure, I should be OK for quite a few years.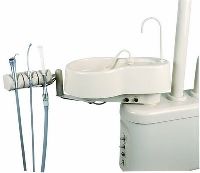 The two dental offices, I have seen in the USA so far, look very similar to the ones I'm used to from Germany. With one main significant difference: there is no cuspidor. My periodontist explained that OSHA had outlawed those in 1985 because they pose a high infection risk. Makes me wonder, how I survived all those years in Germany.
The other big difference is insurance. Coming from the government controlled public health care system in Germany to the *fend for yourself* system in the USA was an interesting experience. The attention you receive here from health care providers is excellent, but you also pay quite well for it - even with insurance.