12/09/2007
black ice
All plans we had for today were cancelled due to freezing rain. No baby shower party for Nikki, no ice skating at Headwaters Park, no winter walk with our dog.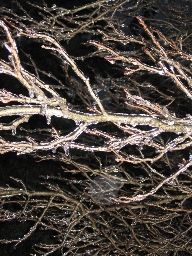 Instead we got a beautiful back yard, full of trees made out of glass. And the Christmas decoration along our front porch roof glitters and sparkles even more than usual, every single mini bulb coated with clear ice.
What an amazing show!