12/02/2007
do-it-yourself advent wreath
Germany has many ancient, antique, old, modern and new traditions built around pagan, christian, political and commercial holidays. December is especially suitable for celebrations, because it's dark and cold outside. People cuddle up by the fireplace, with a cup of mulled wine and cinnamon cookies. The smell of pine or fir from an advent wreath is one of my oldest memories associated with the month of December.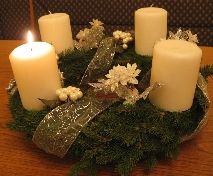 The wreaths you will find in stores here are different. You hang those up on a wall, or on your door. The advent wreath I associate with Christmas sits on a table and has four candles on it, one more of which you light on each of the four Sundays before the 24th of December.
So, if I want to keep the traditions alive, I have to make my own advent wreath. Last year I had one with red and gold decoration, this year I went with white and silver. Building it was fun! And the result looks very professional.