11/02/2007
Döner Kebap, the Greek/Mexican way
Immigrants from Turkey brought one very delicious addition to Germany's fast food menu: Döner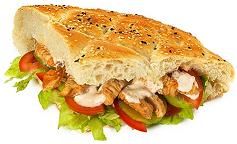 A toasted pita bread, sliced open to form a pocket, then filled with shredded lettuce, turkey or veal scraped off a big vertical rotating skewer, tomato slices, onion rings and a spicy yoghurt sauce. I must admit, I really missed that.
Turkish food hasn't made it to the Midwest yet, but Greek food is available. Now, you can't tell the Greeks (or the Turkish) that you think their food is similar, but you can still enjoy a gyros sandwich as a substitute for Döner.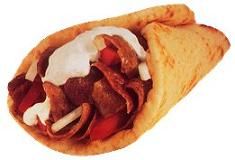 The bread is thinner, so it can't be cut, but has to be rolled around the contents. And for some reason they skipped the lettuce. The *King Gyros* restaurant, where I got my gyros sandwich for lunch today, is operated by Hispanics, like a lot of food places in Fort Wayne.
Life is good!