09/01/2007
re-unite the class of 1974/75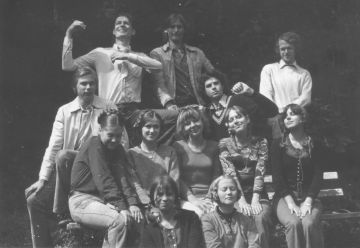 I graduated from highschool in May 1975, after the required 13 years of school in Germany. About 80 other people graduated the same day at the same highschool, 17 of which were my classmates. I lost contact with them almost immediately, because my dad took the family to California for one year in July 1975.
Twenty years after graduation two of the *girls* in my class organized a class reunion and I went there, out of curiosity. It was fun to see what those *kids* had turned into. I recognized most of the people, after I heard their names - but some had changed so much, they could have told me anything.
This year, during my vacation in Germany, I think it's time for another re-union. And, with the help of the internet, I found it relatively easy to research my classmates' addresses, phone numbers, emails, even work places. We'll go back to the roots again.
P.S.: can you guess where I am on the photo?