08/23/2007
count-down for the world's biggest party
Exactly one month from today, on September 23rd 2007, Munich's Mayor (still Christian Ude) will tap into the first beer keg. The world will be watching as he uses a wooden hammer to open a 200-liter barrel. The barrel, made out of aged oak wood, sealed on the inside with black pitch, is ready and was presented to the public today.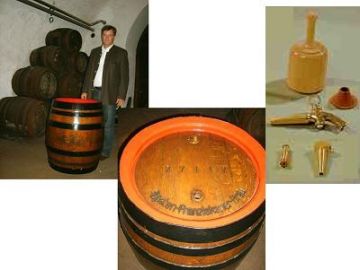 All eyes will be on Ude, standing there in the *Schottenhamel* beer tent. Bets will be placed on how many times he will have to hit the tap with his sledge, before we hear the magic words *O'zapft is !*. The record is at two hits, but in 1950 somebody hat to whack the thing 19 times.
The Prime Minister will be served the first liter of beer, and after that the Munich Oktoberfest is officially started.