07/31/2007
No TÜV - yeah!
All motorized vehicles in Germany face a tough technical inspection every two years, very old vehicles might even have to undergo the ordeal each year. The almighty organization doing these inspections is called TÜV (Technischer Überwachungs Verein). If your vehicle doesn't pass the test, you must fix it within 30 days - or you are not allowed to drive the old junker anymore.
Indiana, like several other States, doesn't care what shape your car is in - as long as your lights are working and you're not a threat to other motorists.
So, when the last four feet of our Geo Tracker's tail pipe rusted off, Tom just tied the remainder of the exhaust up underneath the car - using an old wire clothes hanger.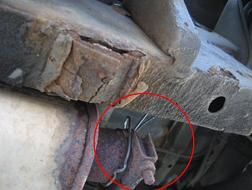 Works like a charm, and the car isn't as loud as it used to be either.